Harness Driving
Since I was a young girl growing up on the farm in the 60's I was always fascinated with my dad hitching up his team. I remember riding up and down the fields on the back of a work horse pulling a corn cultivator. I remember dad letting me drive the team pulling a load of hay all by myself when I was about 6 and my mother not being impressed when I proudly told her about me helping dad. Of course the team was well trained and I was actually just holding the reins.
I wanted my own driving horse, so when I was maybe 10 decided I would hitch my pony Queenie to my express wagon. I had no harness, so made one from binder twine. Used the riding bridle and more twine for the reins. Of course, my dad had no idea I was doing this but he was sure surprised when I passed him driving his tractor on the farm lane.! Queenie had no driving training only riding but she could sure go. Shortly after this adventure my dad got me a real harness and cart. I realize now how dangerous this was and what a great pony she was.
Fast forward to the early 1990's now married and have three children; we are breeding and showing Falabella Miniature Horses. We are going to Miniature Horse Shows at Fairs and there are driving classes and we want to enter these classes but we have no horse trained to drive, harness or cart. We had just purchased our stallion Toyland Domino and decided to give him a try at driving, put a real harness on him and he seemed to understand what we were doing. Again, no cart so we hitched him to a toboggan and again he went pretty good. I contacted the seller and asked about his driving experience and was told " Dom has never been harnessed". Again we were working with a really great horse !!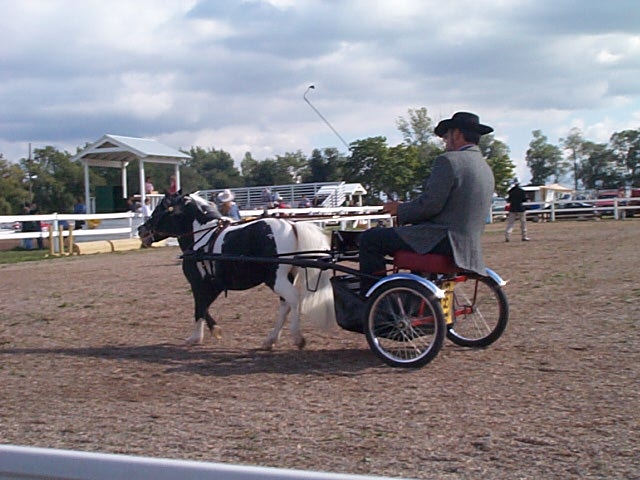 We purchased a better used harness and an easy entry cart which we still have today 25 years later. We drove Domino at shows and he got better and better at driving and so did we. Eventually came the show harness custom made for him and a nice show cart. Obstacle driving became a favourite class; however Domino loved jumping and once at Binbrook Fair he saw the jump stands which we were suppose to back up to, but he thought he could jump those with me in the cart. Luckily I got him stopped. We loved that horse and harness driving. Unfortunately he suddenly passed away in 2002.
Many more wonderful driving horses were to come our way.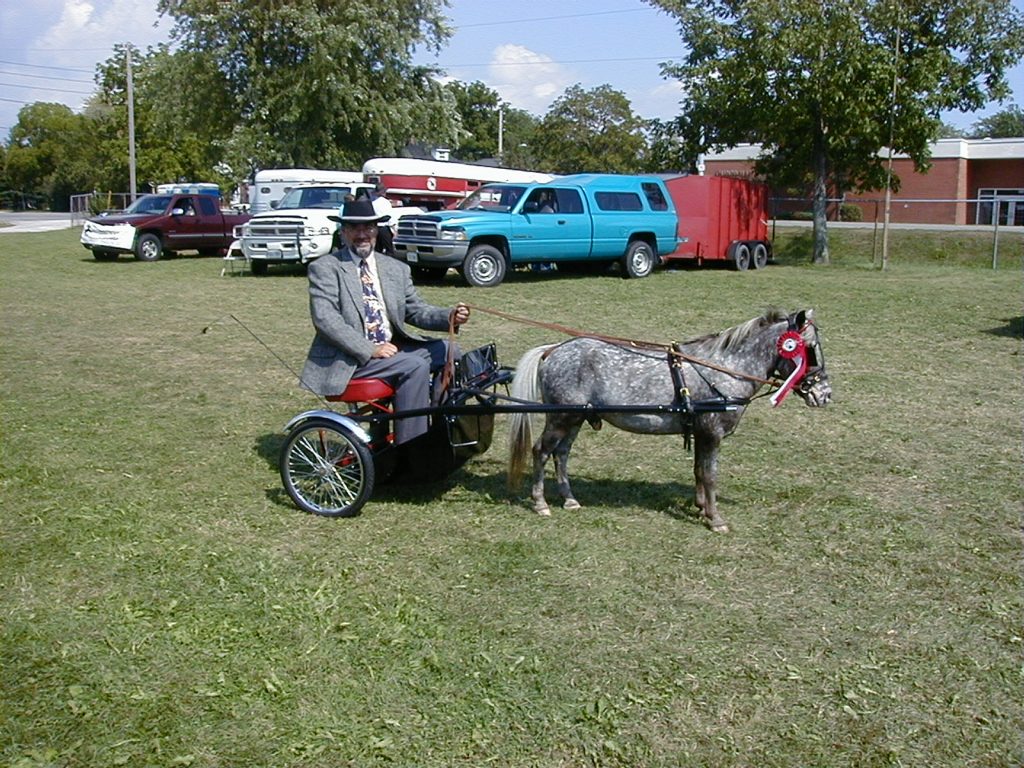 We leased Chianti II for breeding in 2003, he had been a National Show Driving Horse in the US, however he had not been hitched for many years. Again, we hitched him to see what he could do and he was excellent. We drove him in shows at the age of 21 and Judge at Orangeville Fair called him a "cracker jack driving horse". When the lease was over he had to go home to FL.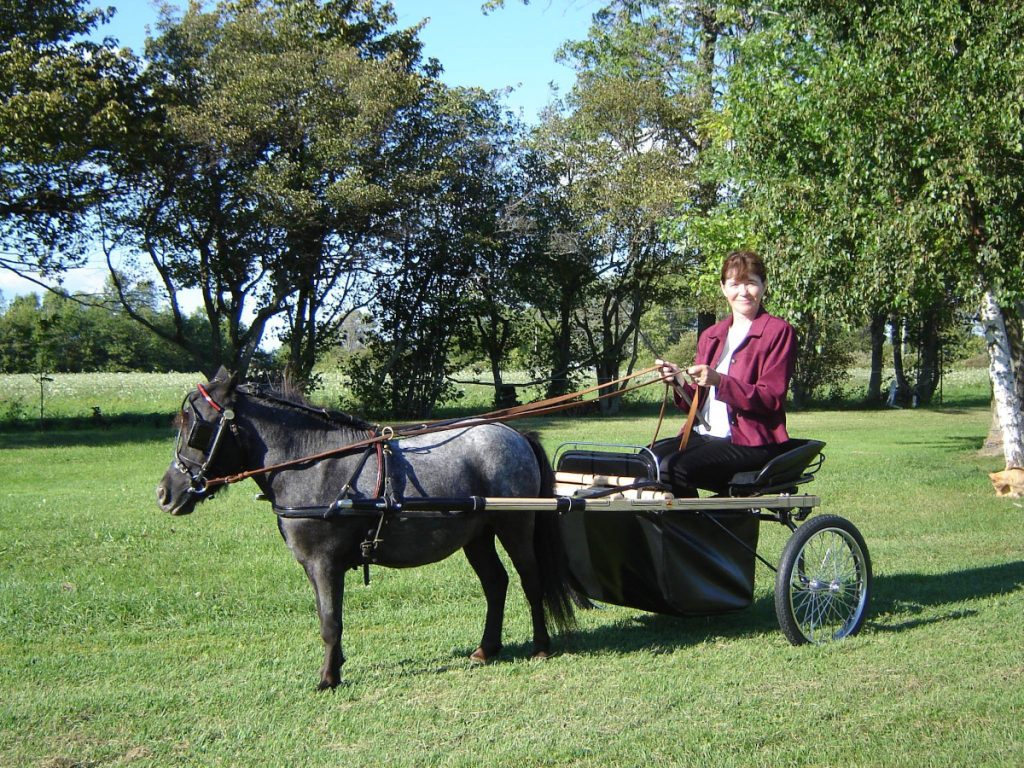 Now we would start training and driving our own homebred horses, Amigo, El Nino, Chili Pepper, Cayenne Pepper and Prince. Funny as the years went by, we seemed to have less time so sent Texas Tea out to driving school.
I was a 4-H Leader from 2005 – 2021; myself and other leaders offered a harness driving club to horse experienced youth over the age of 13. El Nino, Chili Pepper Cayenne Pepper, Frisco and Frodo became the lesson horses for youth learning to safely harness and hitch a miniature horse to drive.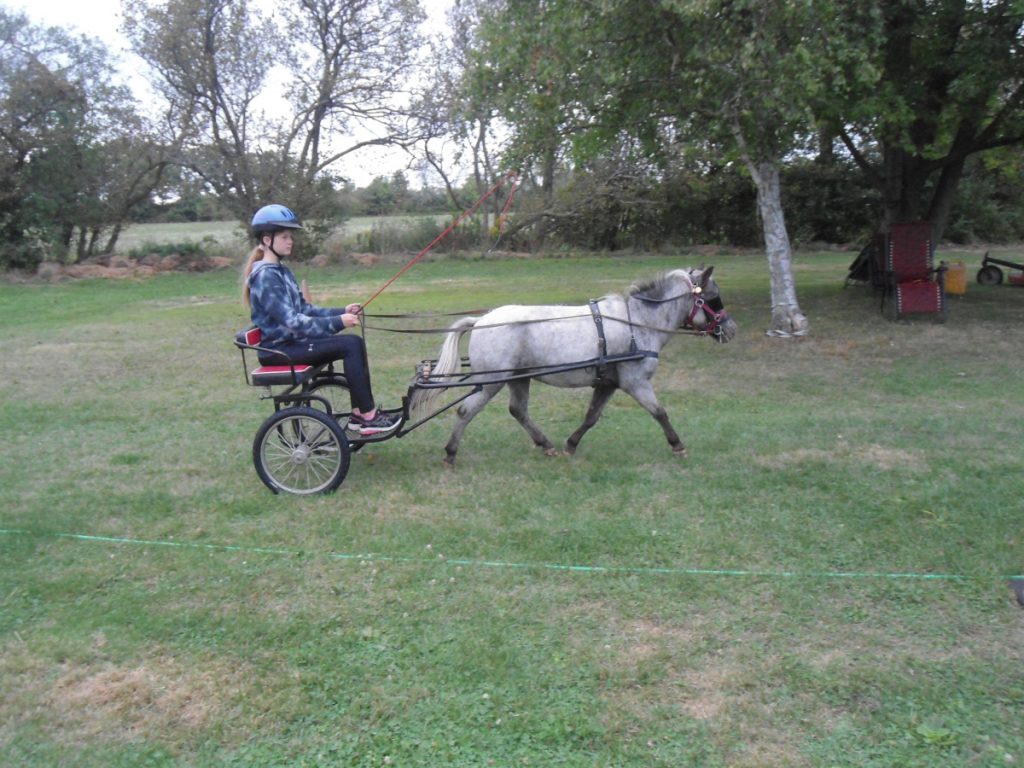 Today, I still enjoy teaching adults and youth to drive a miniature horse. I have come a long way from that first ride with Queenie in the binder twine harness hitched to the little wagon on the farm lane. Having fun and still learning lots about harness training and driving.